Frontier Lanes is a family friendly bowling center with 16 lanes, all equipped with automatic scoring!
Bumpers are available for the kids on all of our lanes, they will automatically come up for the kids and drop out of the way for the adults. We also offer pool tables and video games for your entertainment!
Contact us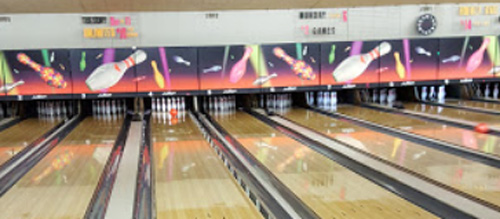 We offer:
Kids Parties
Bumper Bowling on ALL Lanes
Birthday Parties
Snack Bar
Corporate Parties
Adult Parties
Leagues for Everyone!
Youth Program
BOWLING PRICES
Monday – Friday:  $4 per game, or $24 per lane/per hour
Open to 4pm
Monday – Thursday:  $4.50 per game, or $28 per lane/per hour
4pm to close
Friday from 4pm to Sunday close:  $5.50 per game, or $35 per lane/per hour
Shoe Rental:  $4  per person
Game pricing is per person, per game.
Hourly rate is per lane.
You must wear bowling shoes to bowl.